"Lucky You" Promotion... You could be our next $100 winner!
Use your smartphone to deposit a check using our mobile deposit feature and you will automatically be entered to win our monthly drawing for $100. We will be drawing one random winner per month throughout the entire year of 2016. The more mobile deposits you make, the greater your chance to win.
Mobile Deposit is here!
This service allows you to make a check deposit to your checking account by capturing the image with a mobile device. This option will appear within Touchbanking, our mobile application. Members with a checking account are eligible for this time-saving feature.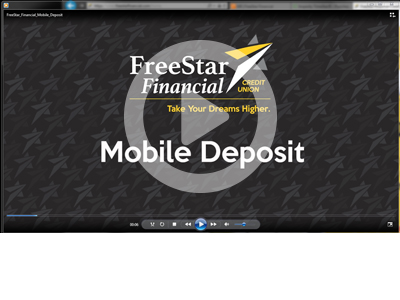 Click here to watch a video or follow these easy steps below:
Log into our mobile app
At the bottom of the page, select Deposits
Sign the back of your check and then label it "for Mobile Deposit only"
When prompted for the amount, enter the check amount
Flatten the folded or crumpled check before taking the photo
Keep the check within the view finder on the camera screen when capturing the photo.
Make sure the entire check image is visible and in focus before submitting the face of the check
Flip check over and take a photo of the back side
Select "Use Photo" and wait for deposit to be verified
Finally, CONFIRM deposit by selecting YES
You will see your deposit as Pending
Product Limits:
Per item limit: $2,000
Daily total limit: $5,000
Go to main navigation