"Save to Win" just got better!
We've raised our rate (as of 4/22/19) on our Save to Win 12-month Certificate of Deposit (CD)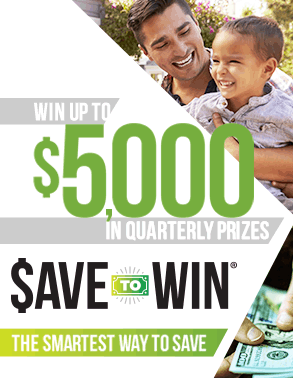 from 0.40% to 1.25% APY*. Now you can earn even more on your savings and be entered to win our monthly and quarterly cash prizes up to $5,000.
Simply open a Save to Win CD with a minimum of $25 at FreeStar Financial Credit Union and for every $25 deposited, you are electronically entered into a drawing to win one of four $50 monthly prizes from FreeStar Financial, and monthly and quarterly multi-state drawing cash prizes.
Quarterly drawings will be performed in January, April, July, and October. Start today and you could be our next winner. It's that easy… the more you save, the more chances you have to win!
To get started, all you need to do is become a member of FreeStar Financial Credit Union.
Official Rules View all CDs Join Today!
Here are important details of the Save to Win CD that could earn you the chance to WIN one of five quarterly $5,000 grand prizes:
$25 to open the account
Make deposits to your CD at any time
No minimum deposit after account opening
12-month term of certificate
Must be 18 years or older
Legal resident of the state of Michigan
All deposits must be made while in the state of Michigan
One CD per member among any credit union that participates in Save to Win program
Monthly cash prizes
---
Congratulations to our recent winners!
2019 March Multi State $25 Winners:
2019 February FreeStar Financial $50 Winners:
Lyndia B.
Elaine H.
Barbara D.
Miklos K.
*Annual Percentage Yield (APY) is accurate as of 04/22/2019. Rates may change at any time without prior notice. Penalties for early withdrawal may apply. $25 minimum deposit required. You must be a Michigan resident and 18 years of age or older to participate in this special program. Maximum entries allowed per month is 10.
Go to main navigation