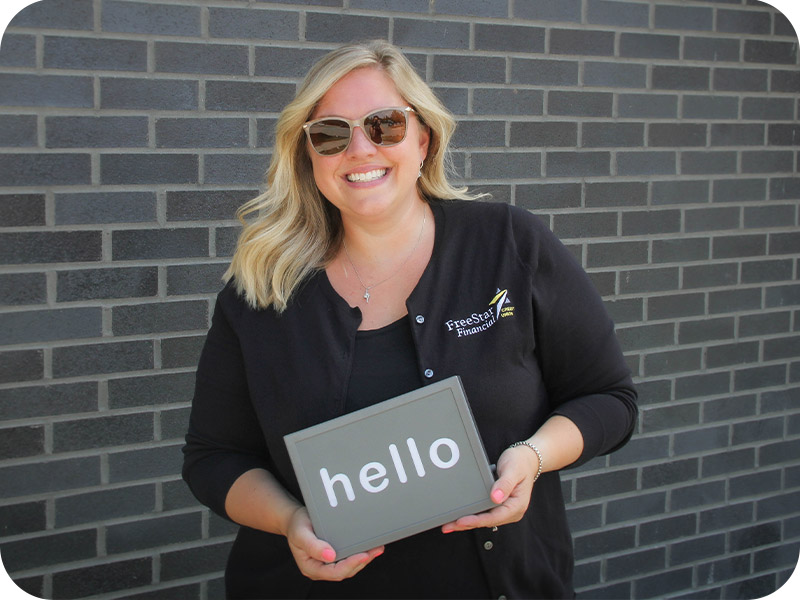 Join A Team That Feels Like Family.
FreeStar Financial Credit Union prides itself on being a rewarding and motivating place to work. Whether you are just starting out in your career or a seasoned professional, we have a place for you. We truly feel like a family at FreesStar. We celebrate each other, welcome new, innovative ideas, and encourage growth & development. We encourage and support our team members and go out of our way to make the people we work with and serve feel special.
We Provide Fantastic Benefits
We recognize that in order to attract and retain our exceptional workforce, we must be a great place to work.

Competitive Pay
We offer a competitive total compensation plan including salary/hourly pay, a chance to earn incentives and a chance to earn an annual bonus.

Financial Security
We not only offer our employees a competitive salary, we also provide bonuses and extra incentives to reward their hard work & dedication.

Paid Time Off*
We recognize the importance of a quality work/life balance, we offer a generous paid time off program. With 9 standard holidays off each year.

Benefits Package
We provide a comprehensive benefits package that includes all of the necessities such as medical, dental, and vision coverage.

Leave of Absence*
We pay for your short and long-term disability. So, if you are unexpectedly absent from work, we have your back.

Retirement Savings
We offer traditional and 401k options to ensure each of our employees are able to save for their future. That is why we will match up to 3% of your contribution.

Learning and Development
Through BAI, a modern online learning management system, we provide unique micro-learning opportunities.

401K
We offer traditional and 401k options to ensure each of our employees are able to save for their future.

Loan Discounts*
Employees receive a .25% off interest for our consumer loans.

Tuition Reimbursement
We recognize the importance of continuing education and will reimburse you up to $1500 per year to assist you in doing so.

Clothing Advances
You can take advantage of this 0% interest payroll advance to spruce up your wardrobe.

Computer Loans
We understand how important it is to stay up to date with technology, which is why we are here to help.

Employee Assistance Program
100% paid by the credit union, assistance when you need it 24/7

Life Insurance
Provided by the credit union, with additional coverage available.

Additional Benefits That We Love
Employee referral bonuses, and annual holiday party.
*Full-Time Employees Only
Go to main navigation