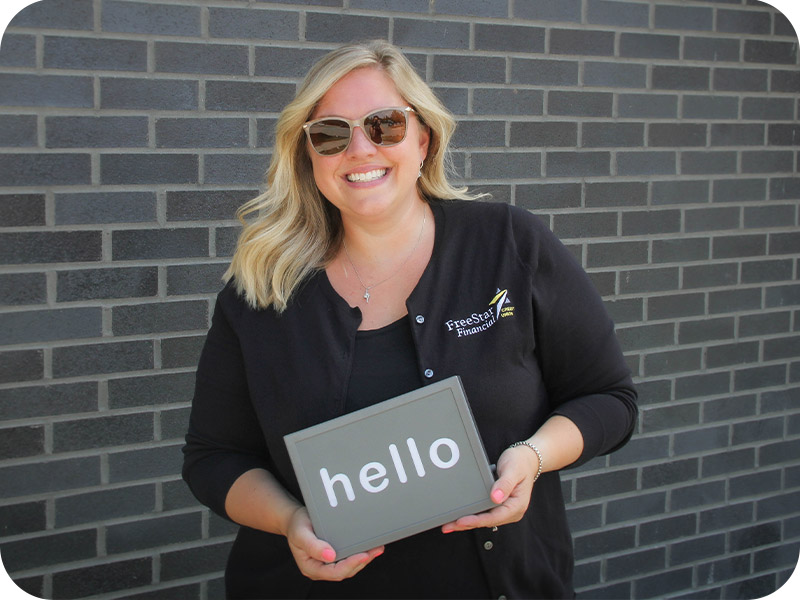 Join A Team That Feels Like Family.
FreeStar Financial Credit Union prides itself on being a rewarding and motivating place to work. Whether you are just starting out in your career or a seasoned professional, we have a place for you.
We Offer Complete Benefits Package And Competitive Wages!
Competitive Pay: We offer a competitive total compensation plan including salary/hourly pay, a chance to earn incentives and a chance to earn an annual bonus.
Time Off*: Besides our competitive paid time off package, employees receive 10 paid holidays.
Benefits: We offer a comprehensive benefits package, including all the necessities such as medical, dental and vision. You will even have access to a nurse hotline 24/7 as opposed to making your way to their office. Don't need health insurance? An opt-out credit will be provided to you for waiving coverage.
Leave of Absence*: We cover the cost of your Short and Long term disability. So if you are unexpectedly off of work, we've got your back.
401K: Saving for your future is important. That is why we match up to 3% of your contribution, as well as adding an additional 3%.
Learning and Development: We offer unique micro-learning opportunities through BAI, a modern online learning management system. In addition, our hands-on leaders are truly invested in YOU and your development.
Loan discounts*: Employees receive a .25% off interest for our consumer loans.
Tuition reimbursement: We understand continuing education is important, which is why we reimburse you up to $1500 per year to help you do so.
Clothing advances: Need to spruce up your wardrobe; you can take advantage of this 0% interest payroll advance.
Computer loans: We know how important it is to keep up with technology, which is why we are here assist.
Employee Assistance Programs: 100% paid by the credit union, assistance when you need it 24/7.
Life insurance: Provided by the credit union, with additional coverage available.
Additional Benefits that we love (too awesome not to mention): Employee referral bonuses, and annual holiday party.
*Full-time employees only
Go to main navigation