FreeStar Financial Credit Union supports Pets for Vets, a 501(c)(3) organization dedicated to providing a second chance for shelter pets by rescuing, training and pairing them with America's veterans who could benefit from having a companion animal.
There is no cost to the veteran. However, it takes about $1500 to rescue the pet, provide vaccinations, train it and provide the initial supplies to the veteran to care for the animal.
Pets for Vets brochure, page 1
Pets for Vets brochure, page 2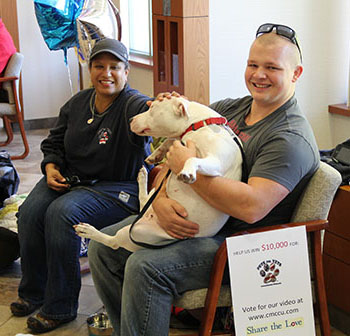 Anthony Mallia with his Pets for Vets companion dog, Opie, visited FreeStar Financial CU staff with his son Chris.
Donations accepted to Change A Vet's Life.
Go to main navigation